I've never REALLY taken the time to introduce myself because to be honest, I ended up convincing myself that no one would care to read about RANDOM things having to do with me. But I think it could been actually very therapeutic to share more of me here. Maybe you can help me out to understand why I do what I do as an ARTIST (It's been always very hard for me to explain what is pure instinct and guts), or maybe I want to do this for the simple fact that I like knowing quirky things about people that I follow online and I do not know at all (dark side of me).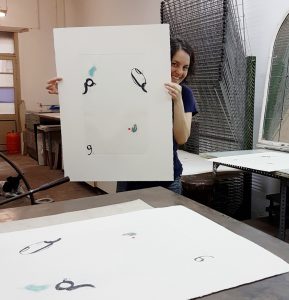 Any psychologist out there? HELP…
1. I walked 28 days to SANTIAGO de COMPOSTELA, an experience that I keep as a treasure in my heart every day.
2. Since I was a kid, I avoid to work in groups or participate in teams.
3. I do not like concerts or people events, I PANIC among crowds.
4. I am chaotic. I keep this a secret, I look like organized but I am totally NOT, I can not follow plans, lists, schedules or can't organize a drawer…
5. My favorite movie is FORREST GUMP.
6. I love to learn languages and I have recently learned a couple of phrases in POLISH.
7. I love to listen to LED ZEPPELIN's rough sound. Fortunately, I never had the chance to go to their concerts…I had panicked.
8. My handwriting is HORRENDOUS (and of course, chaotic). That's why I think I love typography and I use it a lot in my work.
9. I do not like to define myself. Those statements "I am like this", "I'm not like this"…who can actually tell so in a constant EVER CHANGING life?
10. I share birthday with Chuck Norris, Sharon Stone and Jon Hamm… which is TODAY.
My BIRTHDAY PRESENT? Visit now and then my visual BLOG posts on my website (where I to try to keep updated with recent an older work and a few words about it), to my beloved SHOP (where I am also constantly adding new things and special shipping promotions) or my PINTEREST boards (where I keep a nice gallery with other people's work which I like).
And, if you would like to know a little more about me, you can sign up to my monthly newsletter!
Thank you all and enjoy March! (which is my favorite month).