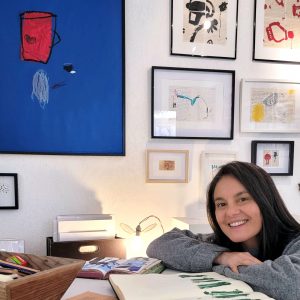 My creative process is a journey into another reality in which I could express my memories in a poetic way.  My paintings are like windows into an alternate universe, formed from images that re-created the past in a unique and beautiful way.
I was born in Chile and I have a graphic design background.  I lived long time in Spain where I started my art career practicing printmaking techniques.  I love to experiment with different techniques with abstract, expressionist and minimalist styles.  I am currently living [and creating] in France.
To know more about my motivation, story and process, I invite you to subscribe to my quarterly or semi-annual newsletter.
Read a little more about me here.  Thank you for your visit.